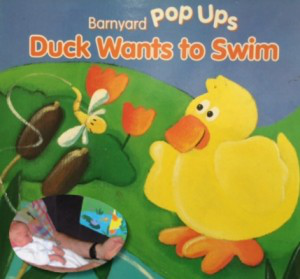 It's Never Too Soon to Start Reading Books and Stories to Kids
Reading has always been a part of my life. Some of my best memories growing up are about books. Riding my bike to the nearby Bookmobile and gathering a sack full of books was like having Christmas any time of year! I also loved library days at school where we could go to the library and choose books. I read through all the Nancy Drew books that way…and many others. Nancy Drew ended up having a significant impact on my life as a writer many years later – and I'll cover that story in a separate blog.
As a child, I always had my head in my book every chance I got. I loved exchanging and talking about books with my best friend across the street, Diane.
Reading reading reading = joy joy joy!
How awesome to escape from any given moment into another world….'Take me away Calgon' has nothing on a great novel!
I still cart a book with me everywhere I go. iPads, Nooks, and Kindles make it so easy to take not just one book along for the ride, but a whole truckload of them! It's like having a whole army of friends with me. But one 'real' book I can hold in my hands is always good enough all by itself. (A side note: Though I love reading digital books, I'll never tire of having the real thing. I worry sometimes that the digital world will eventually kill every last bookstore and library and the thought makes me want to sob uncontrollably. I can see myself chained to a library door facing off with a bulldozer – hopefully many others would join me! Better yet, hopefully no one will ever have to because we, the steadfast readers and book lovers all over the world, will raise kids and grandkids that make sure that never happens! End of that digression…for now…)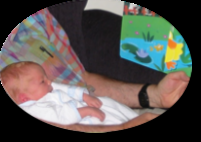 When my son was born, I was so excited to introduce him to books that I couldn't wait to start. Sometimes a love of books happens naturally, like it did for me. But sometimes it takes cultivating. Maybe at 3, Ryan would have sauntered independently over to the book shelf and grabbed a tome or two to read, but just in case that didn't happen, I was fully prepared to open the door to the world of stories and books and lead him gently and firmly inside….and often.
Start Reading to Kids When They're Babies – It's Fun!
The whole time I was pregnant, I imagined all the wonderful stories I could read to my son.  I started our reading the very first day we got home from the hospital! I still have the book – a Barnyard pop-up "Duck Wants to Swim." It's a sweet little picture book with big bright pop-up pictures and hardly any words. You can see an insert pic above of Ryan's Papa reading it to him when he was about 2 weeks old. Yep, that's Ryan, already engrossed (or thinking about a nap!) The book-reading trend continued onward, and continues still, through the years and to this day. As Ryan (now 11) got older and began reading books to himself, I observed that he enjoyed it but that I did need to encourage it regularly to help it become a habit and something he initiated for himself. And, we still read books together which is great fun.
Once he developed an interest in video games (in a nano second) and that pull became a permanent part of our lives, it was quickly obvious that video games could be a threat to reading simply because they seemingly could eclipse books with all their "bling." What active healthy little boy looks at a video game's lively appeal compared to the poor, regular book that just sits there, a static object that has no lights, makes no noises, plays no music, and doesn't talk (out loud) to you! How's a poor book to complete with all the bells and whistles of video games!? So it seems….until our imaginations are captivated! Once that happens, no video game can out match the excitement of a great book! I was prepared to make this case.
One approach I adopted with Ryan was to have him "earn" video game time by spending time reading, hour for hour. He wasn't always excited about that at first, but he was cooperative enough (motivated by the impending video game 'reward'). He didn't yet know what I knew…that the bait was far better than the catch! And sure enough, eventually after he read a few books that gripped him and pulled him inside, he saw for himself how amazing the journey through a great book could be. Watching him experience that warms my heart even to this day! I no longer have to encourage him to read…I sometimes have to pry the book away so he can go run outside, do homework, or eat something. I know that feeling well! Sweet Success!
As I continue with this blog, I'm looking forward to exploring more of the wonderful things about reading and stories and books and imagination…not to mention, diving into books' close companion – Writing! Can't wait – Stay tuned!
~michelle